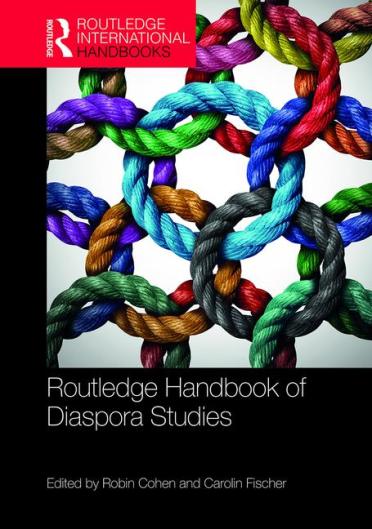 Quinsaat, Sharon M. 2018 (Forthcoming, August 21). Edited by Robin Cohen and Carolin Fischer. New York: Routledge.
Book description from the publisher's website. The word 'diaspora' has leapt from itspreviously confined use – mainly concerned with the dispersion of Jews, Greeks, Armenians and Africans away from their natal homelands – to cover the cases of many other ethnic groups, nationalities and religions. But this 'horizontal' scattering of the word to cover the mobility of many groups to many destinations, has been paralleled also by 'vertical' leaps, with the word diaspora being deployed to cover more and more phenomena and serve more and more objectives of different actors.
With sections on 'debating the concept', 'complexity', 'home and home-making', 'connections' and 'critiques', the Routledge Handbook of Diaspora Studies is likely to remain an authoritative reference for some time. Each contribution includes a targeted list of references for further reading. The editors have carefully blended established scholars of diaspora with younger scholars looking at how diasporas are constructed 'from below'. The adoption of a variety of conceptual perspectives allows for generalization, contrasts and comparisons between cases.
In this exciting and authoritative collection over 40 scholars from many countries have explored the evolving use of the concept of diaspora, its possibilities as well as its limitations. This Handbook will be indispensable for students undertaking essays, debates and dissertations in the field.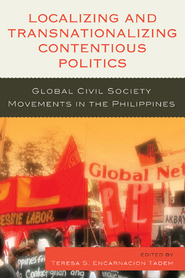 Quinsaat, Sharon M. 2009. Edited by Teresa S. Encarnacion Tadem. Lanham, MD: Lexington Books.
Book description from the back cover. The Philippines makes an interesting case for examining direct and collective acts of contention against the neoliberal project of economic globalization. Crippled by foreign debt, indiscriminate liberalization of trade, falling stock markets, and perpetual corruption, the Philippines is also a democratic polity and one of the few countries in Asia with a vibrant and dynamic civil society sector. This collection has chapters on the Freedom from Debt Coalition's campaign on debt relief, the Stop-the-New-Round Coalition's advocacy to change international trade rules and barriers, the global taxation initiative as embodied in Tobin tax advocacy in the country, the Transparency and Accountability Network's anti-corruption effort, and the Philippine Fair Trade Forum's enterprise on fair trade. Localizing and Transnationalizing Contentious Politics is the first work of its kind to focus on five global civil society movements in the Philippines and their responses to the inequities of neoliberal globalization. Northern scholars have acknowledged the persistent absence of the South in research on activism around global issues, and this book can help fill this gap. Using political process theory as a framework, the book traces the emergence, development and diffusion of these social movements in the Philippines. Globalization is taken as the environment in which they operate to highlight the role of increased interdependence and internationalization, and the predominance of a particular ideology in the dynamics of contention.